KEY TAKEAWAYS
Analysis of mobile GPS data reveals which national and regional brands see the greatest uptick in foot traffic from Chick-fil-A customers on a Sunday.
Diners in many states favor boutique, local or regional options over larger, national chains.
In the hands of an experienced analytics company, GPS data sourced from mobile devices can provide unprecedented insight into the behaviors of consumers.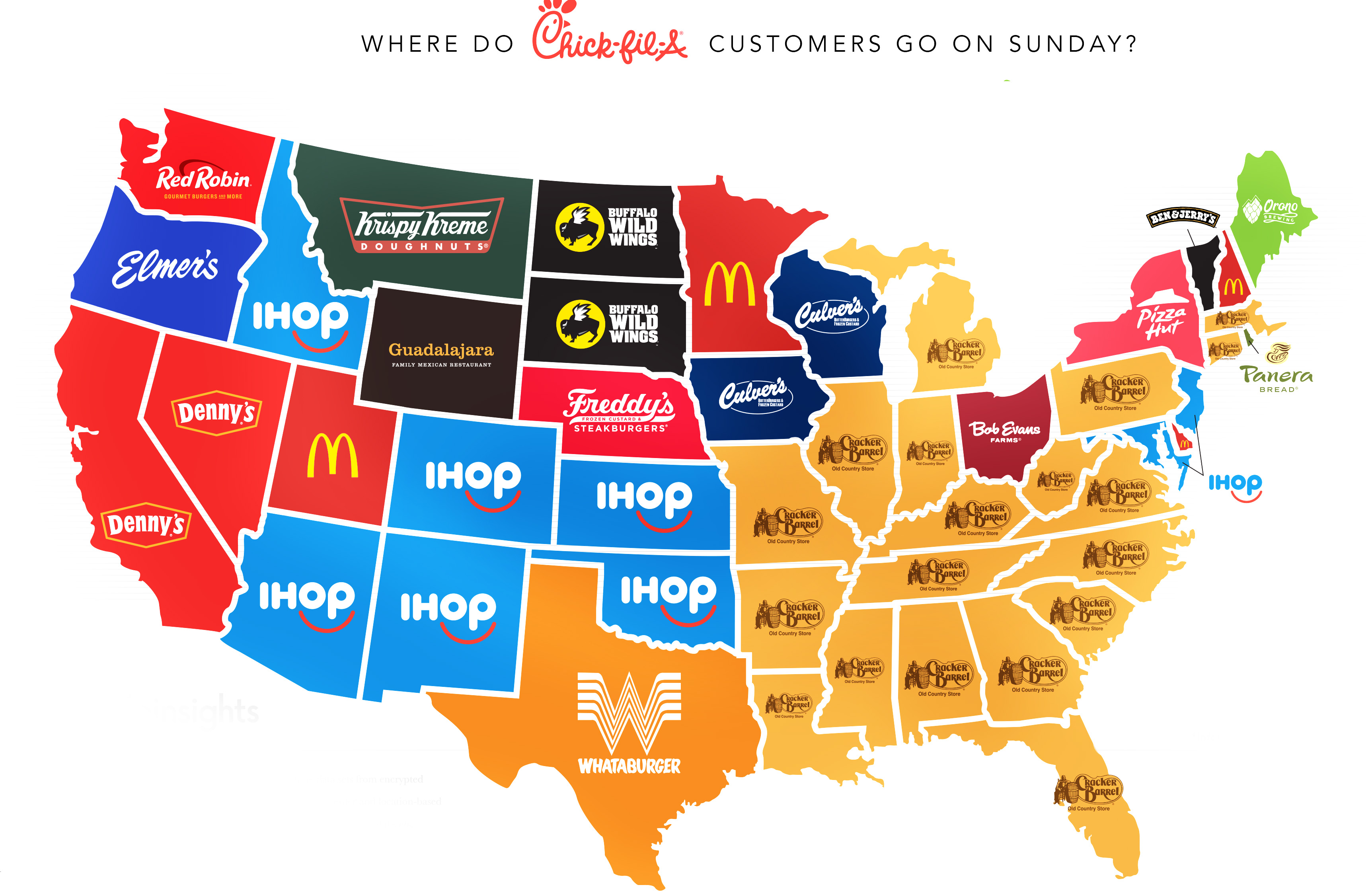 Are there aliens in Area 51? How did Stonehenge get built? Is Sasquatch real? While answers to these enduring mysteries may never be known, we have now solved one of the great conundrums of the 21st century — where do Chick-fil-A customers go on Sunday?
It's an enigma that has confounded data analysts since before Chick-fil-A founder S. Truett Cathy, a devout Southern Baptist, wrote in his 2002 memoir Eat Mor Chikin: Inspire More People: "Closing our business on Sunday, the Lord's day, is our way of honoring God and showing our loyalty to him."
Despite being open for one day a week less than rivals, Atlanta-based Chick-fil-A climbed four places — overtaking Subway, Taco Bell, Burger King and Wendy's — to become the third-largest U.S. restaurant chain by systemwide sales in 2018, according to Nation's Restaurant News, lagging only McDonald's and Starbucks.
Founded as a mall food-court concept in Atlanta, the first standalone Chick-fil-A didn't open until 1986, also in the Georgia state capital. Sales totaled $10.5 billion at more than 2,300 locations in 2018, a 16.7% surge on the prior year, according to Nation's Restaurant News.
"My brother Ben and I closed our first restaurant on the first Sunday after we opened in 1946 and my children have committed to closing our restaurants on Sundays long after I'm gone. I believe God honors our decision," Cathy, who died in 2014, wrote in his book.
Mobile Insights
But until analysts gained the ability to examine GPS data from mobile devices it wasn't clear where Chick-fil-A's loyal fans go on Sundays, something that has perplexed retail property owners and developers seeking to counter the drop-off in traffic caused by shuttered restaurants. Now Buxton analysts using mobile GPS data can monitor pings from devices in Chick-fil-A outlets and see where those same mobile phones show up on Sundays.
For the purposes of the analysis, Buxton defines a Chick-fil-A customer as someone who visits one of its premises at least once a month. Experience gained over 25 years tells Buxton that measuring the total number of Sunday visitors at any geo-fenced location favors the largest operators, so a better methodology is to focus on the difference between traffic that day and the rest of the week. Buxton also excluded coffee shops such as Starbucks and Dunkin' Donuts, eateries 100 miles or more from a Chick-fil-A, airport, and mall restaurants, and anyone who spent more than 90 minutes at a location, since they are likely to be employees.
Top of the Barrel
The business that enjoys the most widespread gain in traffic on a Sunday over the rest of the week from Chick-fil-A customers is Cracker Barrel. In addition to enjoying the biggest increase in foot traffic in its home state of Tennessee, the country style chain known for fried chicken and biscuits is the favorite Chick-fil-A substitute in 18 other states, including several along the eastern seaboard from Massachusetts to Florida, as well as in the South and Midwest. Cracker Barrel, which generated fiscal 2018 sales of $3 billion from 660 locations in 45 states, is the No. 2 choice in a further six states and places third in four more.
Restaurants known primarily for sit-down breakfasts also benefit from Chick-fil-A's Sunday rest, with IHOP appearing among the top three choices in 28 states while ranking first in eight. Denny's gets enough of a boost to make the top three nine times and achieves No. 1 rankings in Nevada and California — IHOP's home state, where the second-top pick is local burger hero In-N-Out. Waffle House makes the list 10 times, with no first place finishes.
Regional Preferences
The analysis also highlights several regional biases, with New Albany, Ohio-based Bob Evans Restaurants, with almost 500 venues mostly across the Midwest, mid-Atlantic and southeast regions, seeing the most additional foot traffic in its home state ahead of another local brand, burger and sandwiches specialist Frisch's Big Boy, which places third. Culver's, with more than 700 Midwest locations, gets the biggest visitor uplift in its home state of Wisconsin.
Wendy's, based in Dublin, Ohio, failed to make the top three in the Buckeye state and has just a single appearance in the list with a second-place ranking in Rhode Island. Still, that beats Burger King, with 7,222 outlets, none of which enjoy a traffic increase substantial enough to propel them into the top three in any state. By comparison, McDonald's, the biggest burger chain with more than 36,000 restaurants globally and 14,428 in the U.S., gets a big enough boost to place first in Utah, Delaware, Minnesota and New Hampshire, while also making the top three in two further states.
San Antonio-based Whataburger gets the biggest surge in Sunday visits in its native Texas, where it ranks No. 1, while Red Robin is the top selection in Washington, where the burger vendor with more than 560 locations began 50 years ago. While Kentucky-based Texas Roadhouse only manages third spot in its home state, it appears in the top three in eight other, mostly western, states.
Local Loyalties
Diners in some states show more love for local, boutique operators than larger rivals. Two-outlet Mexican establishment Alero is the top choice and six-strong Ted's Bulletin ranks third in Washington D.C., while Maine diners favor Orono Brewing Company's three sites over local Italian Amato's. Oregon, too, roots for a home team in Elmer's.
The award for sweetest tooth is a tie. Vermont is the only state in the lower 48 that doesn't have a Chick-fil-A, so come Sunday its residents swap trips to the borders of New York and New Hampshire to rally around local ice-cream icon Ben & Jerry's, while donut-loving Montanans flock to Krispy Kreme.
Behavioral Changes
The analysis also highlights a behavioral shift. While long lines of cars snaking around Chick-fil-A drive-throughs are a familiar sight nationwide seemingly at any time of day, its customers show a distinct preference for sit-down meals over quick-serve options come Sunday, perhaps indicating that the seventh-day experience is more family oriented, maybe post-church, versus individual meals on other days.
By determining who goes where and when, organizations now have the power to lever actionable insights that help them make better decisions about where and how to invest in their brand to optimize return on capital. The analysis shows how mobile location data can help restaurants to better position new outlets and to target marketing efforts at their true customers. By combining mobile GPS data with demographic, lifestyle, behavioral, and financial information, Buxton creates a more comprehensive portrait of an individual that gives brands a precise insight into who their core customers really are.
And of course, if Bigfoot, Martians and the Druids had mobile phones, we'd now know the answers to those long-standing mysteries, too.
To learn more about mobile GPS data, read our blog "How Mobile GPS Data can Take You Where You Want To Go."