The growth of social media has made it hard for businesses to ignore this channel as an important tool for communication. This has also made it a valuable tool for communication, no matter who you are.
If you are thinking about using social media in your retail recruitment strategy, consider the audience you are trying to reach, the message you are trying to communicate, and the strengths/weaknesses of each social media platform in helping you to achieve those goals. Not every social media channel is a great fit for every type of business communication. Here are a few tips to leverage social media as an additional touchpoint in your recruitment efforts.
Read more about retail recruitment in our white paper, "Marketing 101: How to Attract New Businesses to Your City."
Creating Content for Your Target Audience
Social media strategies are most successful if you provide your followers with content that resonates with them through the right channel. The types of followers you may have will vary across each channel too. Fortunately, each social media platform comes with extensive analytics about organization page followers to help you uncover details about your ideal audience.
Dig into your stats to find out more about who has liked your page/followed you on Twitter (note: to access your Twitter stats, go to the separate URL: analytics.twitter.com), and create content specific to each of your audiences.
Determining When to Post on Social Media Networks
Many people getting started with social media aren't sure how often to post. There isn't a one size fits all approach for frequency, but here's a good rule of thumb: evaluate your previous posts to see what type of engagement you're getting. If you aren't getting any clicks/engagement with your posts, then you are posting too frequently.
A good starting point is to post on Facebook and LinkedIn once per day and to post on Twitter three times per day. Then you can adjust the frequency up or down as needed.
Exploring Infographics and Images
Regardless of channel, images play an important role in social media. Think about photos or infographics you could share. There are many free resources on the web for creating simple infographics. If you have a smart device you can use free photo editing tools right from your device, or tools right in the social media platforms, to enhance your images.
Understanding Social Media Channels
Confused about the type of content to post on each social media channel? Here's a helpful infographic: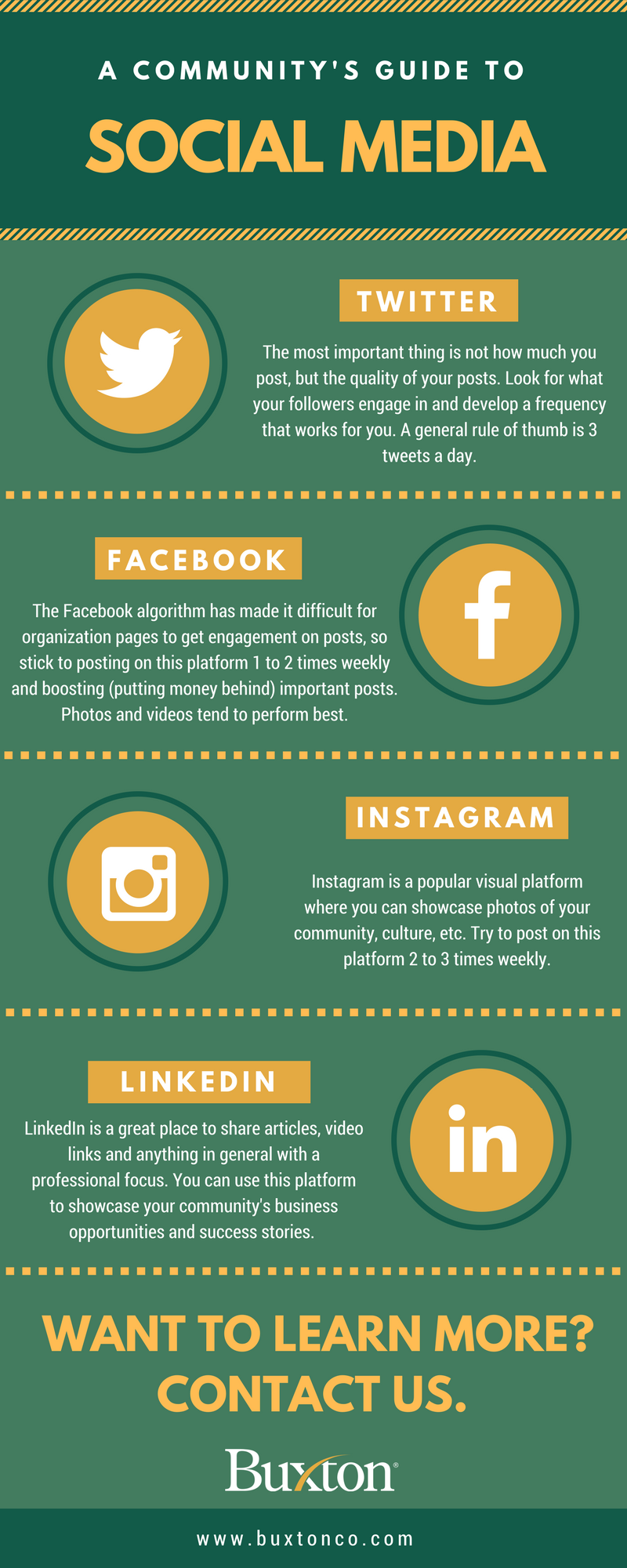 More Retail Recruitment Marketing Strategies
There are many more ways to effectively market your community to retailers. To learn more about how to create a winning marketing strategy, download our whitepaper "Marketing 101: How to Attract New Businesses to Your City."